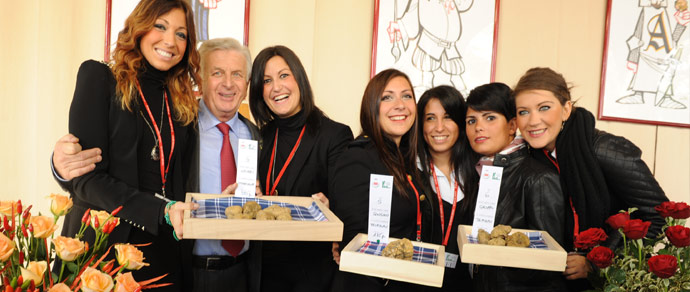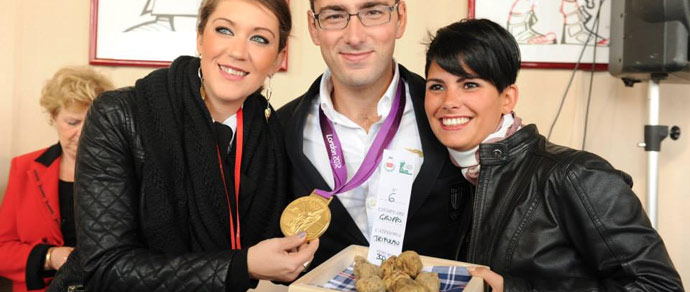 The seventies: the modern format
The seventies: the modern format
In 1973, the town council decided to entrust the organization of the Fair (until then handled by the Citizen's Association – Pro Loco) to a expert commission headed by a President selected by the town council. The duration of the Fair was extended to two days —on the penultimate and ultimate Sundays of October of every year.
Mario Pavese, the sensitive artist and skillful graphic designer, created and patented the Fair's logo—creating a unique and distinguished brand for the Fair throughout Italy and the world.
From the 1970's to today, during the Truffle Fair the Moncalvo town square comes to life with stands full of typical food and wine products.
Today the Moncalvo Truffle Fair is a cultural event with strong roots. We can humbly say that the Fair continues to grow in importance and popularity. With more than 30,000 visitors annually, the Fair continues to attract visitors from around the world to experience the magic of Moncalvo and Monferrato.
Although the Moncalvo Truffle Fair is the highlight of Autumn in the region, the City hosts other festivals and events throughout the year—of food and wine, theatre performances in dialect, and art exhibitions. Some of our events include Bue Grasso in December, Culinary Art Festival of the Monferrato in June, and Blu Notti Blues, Open Air Movie Theatre, and concerts during the summer).
While preparations are underway in Moncalvo for the Fair, the search for the truffle has its own accomplices: the night, the moon, the silence, the dog, and the fog.