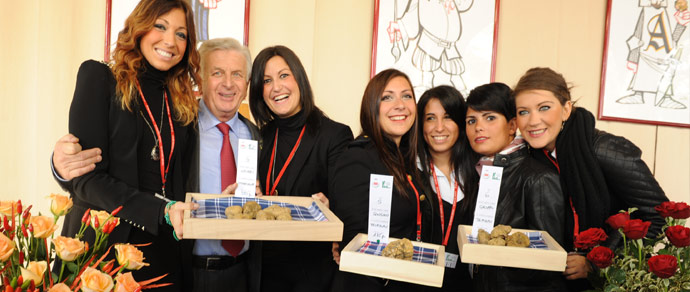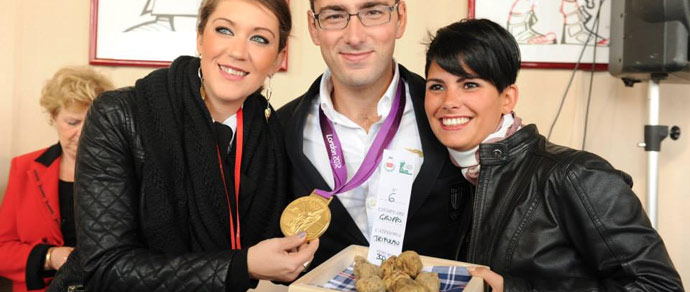 The seventies: the modern format
The seventies: the modern format
In 1973 the town council decides to entrust the organization of the Fair (until then handled by the Citizens' Association – Pro Loco) to a commission of experts headed by a President that is appointed by the town council. The duration of the Fair is extended to two days, on the penultimate and ultimate Sunday of October of every year. The town square comes to life with stands full of typical food and wine products of the zone. It has been embellished by the works of Mario Pavese, the sensitive artist and skillful graphic designer who creates and patents the logo of the Fair that still distinguishes it all over the world.
Today the Fair of Moncalvo is a manifestation with strong roots. Without any arrogance, we can state that it has left its natural geographical borders after a growth that developed in time.
The 30.000 visitors that increase every year and the interest raised because it has become not only an important driving force of the local economy, but also an touristic and cultural appointment, thanks to a range of manifestations that are held in this period, are proof of this fact. Festivals of food and wine, theatre performances in dialect, art exhibitions. Not only in autumn, but all year long they transform Moncalvo in a vivacious landmark (Culinary Art Festival of the Monferrato, Blu Notti Blues, Open air movie theatre, concerts, wine festival Vinifera).
The search for the truffle has his own accomplices: the night, the moon, the silence, the dog and the fog.